The Best Bed Of Nails !
Acupressure Mats
Find here all the products proposed by AcupressureMat® to solve your back pain, your anxiety and your recurring stress.
What is an acupressure mat?
A mattress constructed of plant fibers is the acupressure mat. Acupressure stimulators are crowns or flowers with spikes fixed to a cover that covers the device.
Based on traditional Chinese expertise, this wellness accessory emphasizes the meridians, which are vital for the body's healthy operation. Oriental medicine holds that an imbalance in one of these channels might result in physical or mental issues that are closely tied to common illnesses.
The goal of using an acupressure mat is to gently relax and release toxins while also restoring the body's energy flow equilibrium in order to regain health and well-being.
What are the benefits of the acupressure mat?
The usage of the acupressure mat has numerous positive effects on the human body and can be used to treat a wide range of conditions, including arthritis, migraines, back pain, and stiffness in the neck.
It is also a great approach to treat digestive problems, painful periods, stress, anxiety, and sleeplessness. And this list is by no means complete! The acupressure mat works well in a variety of circumstances.
You can enjoy the benefits of Chinese medicine in the convenience of your own home with sessions that can be performed whenever and wherever you like.
It is a very practical, quick, and affordable form of therapy to activate all of the body's energy points and enhance your daily life.
What are the good practices on an acupressure mat?
What is the frequency of use?
If you feel the need, you can use an acupressure mat every day, even for brief sessions in the morning and evening.
Avoid scheduling additional sessions; instead, concentrate on making the ones you do such as breathing exercises, meditation, and relaxation effective.
After your initial few sessions, you can experience a little skin reaction, such redness or pimple marks. There is no cause for concern because this is entirely typical.
These reactions pass rapidly, but they are also indicative of advantages because they indicate that the blood circulation has been stimulated!
What position to hold on the mat?
An acupressure mat is traditionally used on the back, lying down with the mat positioned between the shoulder blades and the coccyx. If you find the position uncomfortable, finish the pose by adding an acupressure pillow behind the neck.
Focus on your breathing while closing your eyes. Imagine the steady inflow and outflow of air in your body.
To relax and let go of tension, take slow, even breaths in and out. Your body will gradually experience a soft warmth that will improve your wellbeing.
What position to maintain on the mat?
For the first several weeks, 10 to 15 minutes is more than enough time to maintain the position. You can make the sessions last 45 minutes after your body is adjusted to the pins' pressure.
Because it is advised to take a nap after a session to prevent the energy flow from being disturbed, many individuals prefer to use the acupressure mat at night.
You'll soon see a reduction in tension and a rise in your level of motivation in daily activities.
What clothes to wear on the mat?
Is the acupressure mat utilized in either a clothed or bare form? Anything is possible, so go with your preferred course of action. Keep in mind that your session will be more fruitful the more touch your body makes with the mat.
To offset the discomfort of the spikes, dress in light, thin-fabric clothing or cover your mat with a sarong for the first few sessions.
Because acupressure attempts to relax the sufferer, trust your gut. You can gradually advance to naked skin contact if you so choose.
When and how to use an acupressure mat?
Where should the mat go? The floor, a carpet, a sofa, or even a bed are your options.
Since the pimples' contact with the skin is significantly more severe when the mat is on a firm surface, it is advised for novices to set the mat down on a hard yet somewhat soft surface.
So you can begin by spreading out your mat on the rug in the living room or bedroom. The use of the acupressure mat can thus be done both in the morning and in the evening.
In the morning, it enables you to start the day off well and to load up on energy. In order to enjoy the evening with your family, it helps to get rid of the toxins and tensions from the day.
It encourages a comfortable slumber before bed and primes the body for sleep.
The use of the acupressure mat according to the affected area
The stomach
Simply lie down on the acupressure mat to benefit from its effects on your stomach. Your stomach's skin should be in direct contact with the zits.

If the force is too great, shift positions right away because this posture can be uncomfortable for women.
Lower back
When using the acupressure mat, your back will feel better overall, but if you want to focus on your lower back in particular, start by laying the mat down horizontally.
Get comfortable sitting down before slowly rolling your spine. In this manner, the pimples on your lower back will eventually come into contact with you.
To keep your lower back in contact with the mat, feel free to bend your legs and place your feet flat on the ground.
Legs
Additionally, the acupressure mat can ease tired legs and improve blood flow in your lower body. On the mat, lie on your side to perform this.
Your thigh and hip come into contact with the pimples. If your legs have good touch with the mat, you can successfully hold yourself in a flat stomach position.
The feet
Do you understand how reflexology works? Since all body parts are represented there, it is about caring for the entire body through the foot arch.
It's easy to use the acupressure mat for feet: just lay your mat on the ground and put your feet up there.
Depending on your preference, you can decide whether to sit or stand. Your body's organs and overall body gain from this foot massage!
Face massage
If you press your cheek against the zits, your face will also benefit from acupressure.
To ease the strain during the first few sessions, lay a very thin cotton pad between the mat and your skin.
Try bare skin contact when your facial muscles become more at ease and relaxed.
Neck and Nape
Last but not least, using the acupressure mat helps relieve tension in your neck and nape. Then, lie down with a towel rolled up below your mat.
Put your neck in contact with the zits to gradually relax your neck and shoulders. Your body immediately starts to release endorphins and tension is rapidly alleviated (the "feel good" hormone).
How to relax on an acupressure mat?
Getting into the habit
We concur that it is not always simple to unwind throughout your initial session. You need to give your body some time to adjust to the unique sensation of pimples.
If you initially experience any pain, put a thin piece of fabric between you and the mat to block out the unpleasant feelings. Don't worry though; you rapidly get used to the pins.
It is absolutely painless, and the soreness frequently goes away within a short period of time. Many first hesitant users have grown to enjoy using the acupressure mat and even nod off while using it!
Doing relaxation exercises
To help you relax, why not take advantage of those 20 minutes of quiet time to practice some relaxation exercises? Here are a few tips to relieve tension and maximize the benefits of the mat:
Breathing exercise: Put your eyes closed and take three counts of deep breaths (inflate your belly, not your chest, while doing so). Inhale through the mouth for 6 times while taking your time, blocking the incoming air for 3 counts as well. Allow the stomach to grow. Count the heartbeats in your head as you exhale four times.
Meditation exercise: Put your eyes closed and take several deep breaths. If you have any thoughts, don't fight them; just let them go. Bring your attention back to your breathing. Continue as long as you like while keeping your focus on the present.
What are the side effects of the acupressure mat?
In general, using acupressure accessories is absolutely risk-free. However, it is not advised for those who are pregnant, have hemophilia, or have skin issues. If you have any questions prior to use, speak with a health care provider.

You can take advantage of all the advantages of Chinese medicine every day without leaving your home if you utilize an acupressure mat.
It's a fantastic wellness tool for releasing tension, lowering stress levels, and feeling better physically. This therapy is available to everyone thanks to how easy it is to use!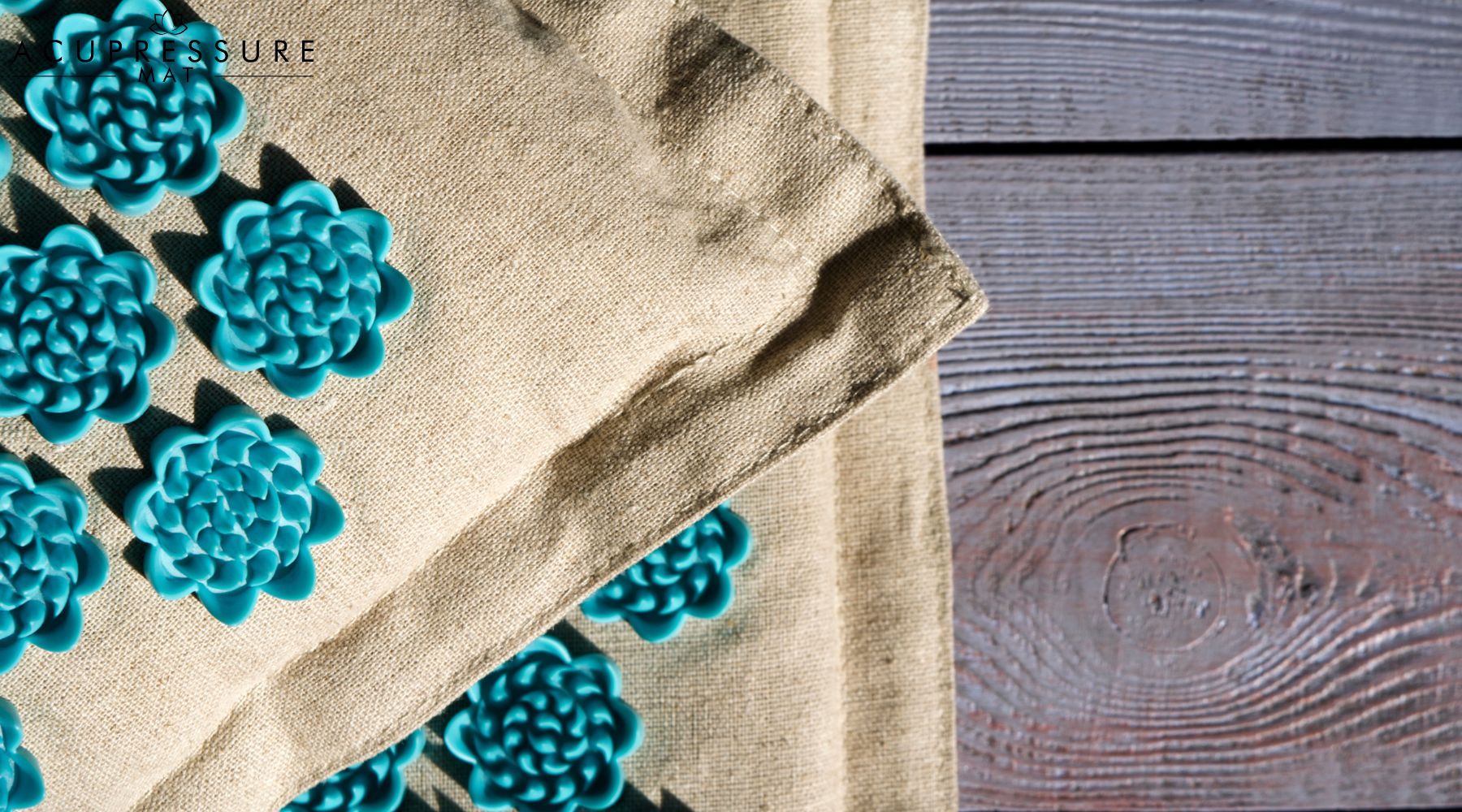 Subscribe to our newsletter
Promotions, new products and sales. Directly to your inbox.
Free shipping
Free worldwide shipping and returns - customs and duties taxes included
Customer service
We are available from monday to friday to answer your questions.
Secure payment
Your payment information is processed securely.
Contact us
Need to contact us ? Just send us an e-mail at info@acupressure-mat.co